SATUR

DAY- July 20th, 2013
"Captivated."
1408:
Do You Believe NOW?!:
(Title LINK is in English)
2007/USA/PG-13/Horror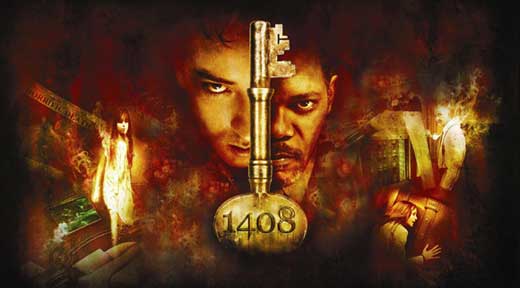 "A man who specializes in debunking paranormal occurrences checks into the fabled room 1408 in the Dolphin Hotel. Soon after settling in, he confronts genuine terror.
" ~ 1408 (2007)
HQ Thoughts:

"If any justice can be done to a Stephen King short- this would be it. Took me a while to watch it because I'm simply not that interested in the American mainstream horror film but on a boring weekend night, I managed to watch it and was quite surprised!
Mike is a paranormal investigator who makes a living going out and finding some way to debunk peoples' ghost experiences until he is given a task to go and stay in the Dolphin hotel in NYC over night. He was specifically told to stay in a room 1408- where apparently people kill themselves before seeing the light of day. Seems easy enough until after he settles in.
The set-up is one room for a majority of the film which is true Stephen King claustrophobia style. Mike starts to feel the effects of this solitary experience and tries to curb his clearly growing anxiety with alcohol and a little TV. Gradually, things start to get really screwed up and he is faced with so many of his own demons that he starts to lose it.
This movie takes you there and back- literally. Check it out- keeps you guessing until the end. "