Real Stories, Real Weird.
(Click Title Link for Story)
Man Kills himself by Decapitation in The Hunts Point section of the Bronx
Date:
September 2nd, 2014
Location
: Bronx, NYC
HQ Thoughts:
"How bad is it when you decide to make a full spectacle of your own death? This was a hard one to take in, a man mid-way through life decides to behead himself. Outside. In front of people. In the most original way.
According to NY Daily News; "Tomas Rivera, 51, tied a chain from his head to a pole, then hit the gas on his 2005 Honda CRV in Hunts Point, cops said." WOW! As you can see from the article itself, there isn't much to say. This was an effort I have never heard of before and what a way to go!
The article goes on to say; "He gunned it at 9:35 a.m., slamming into a parked vehicle...
He was decapitated and died at the scene." He gunned it, he slammed his foot on the gas. It plays out like one of the craziest scenes EVER!
(But on a SERIOUS NOTE) How unfortunate, if this case of suicide was in any way connected to mental disorders of any kind- we beg that you get help- talk to someone. So many cases go unseen until something drastic like this happens. This was a serious cry for attention. Yet we don't want to speculate.
Just giving you something to visualize before you go to bed. Crazy.
Date:
June 25th, 2014
Location
: Davie, FL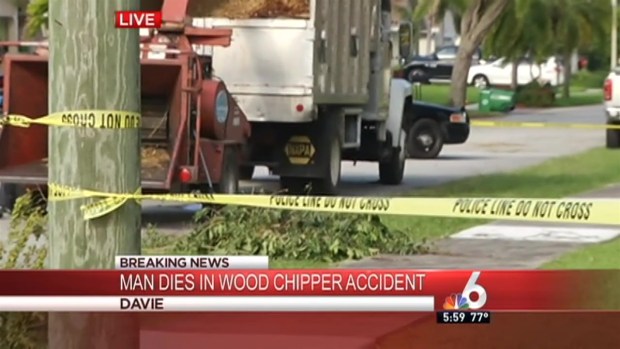 Source: NBCMiami.com
HQ Thoughts:
"Well how unfortunate for this poor fellow. A work accident gone horribly wrong cost Hernan Gutierrez, 42 his life in the most horrible way.
Mr. Gutierrez, according to SunSentinel.com; was feeding the wood chipper from a tree he had scaled as usual. After loosing his footing, he tumbles into the 'industrial size'wood chipper where apparently, he did not die right away. The article goes on to mention that "
Cheryl Appel, who lives nearby, states;
"He was obviously extremely distraught, yelling and flailing his arms around, screaming," she said.

When he got to a fence near his co-worker, he "collapsed against it, his knees buckled..."
OUCH! I don't even think that is the appropriate term but I hope the suffering didn't last too long because man, what a way go to out. According to OSHA, the practice of feeding the chipper is a 'risk' and a worker could become trapped. Yes, but it also sounds like a little bit of a blame shift because regardless if the worker is performing 'risky' behavior, it was clearly never enforced as rule. 11 other cases show this.
That sounds like pure misery, my condolences go out to the family and I hope no one else would have to endure this insurmountable amount of pain. This is CRAZY! *cringe* Now you can go on with your visual... Gooo-ryyyyy!
Date:
Aug 18, 2014
Location
: Hamilton County, OH
HQ Thoughts:
"Necrophilia- The erotic attraction to a corpse. What a topic. Happens rarely, but not once have I encountered it like this.
Kenneth Douglass, a morgue assistant of 16 years for the Hamilton County, Ohio morgue has admitted to having sexual relations with over 100 dead bodies during the course of several years.
Several things interest me about this article, courtesy of MedicalDaily.com; One is that he didn't shy away from the fashion of death at ALL! The article mentions that he had sex with a female corpse who died from strangulation while 6 months pregnant and having climbed on top of the others who were basically without heads. Yes, partial decapitations! So, imagine the real scope of his fetish. FREAKY!
Drugs and a nasty drinking habit is to blame according to this suspect, but let's be honest, do you think he's really a suspect OR could he just be a man who couldn't get a woman to agree to sex because of well... His eccentricity??? I'm trying to keep it unbiased. Lol
I absolutely get a sick visual when I think about how gruesome his acts were and how appropriate it is to say gruesome. This is the best story line for a horror flick and honestly, that is the only place I'd expect to see this kind of stuff."
Man Arrested After Jars and Jars Of Human Penises Discovered In His Apartment
Date:
Aug 16, 2014
Location
: Slavonski Brod, Eastern Croatia
Source: Queerty.com
HQ Thoughts:
"Well, here we are with the first of many to come. A man "whose name has not been released" was basically caught hoarding many penises soaked in formaldehyde in his home. Yes. And according to the website; Queerty.com, he was also a nurse who was nicknamed the "Penis Collector".
Let's allow that to sink in for a bit, we have a 52-year old man that was somehow able to obtain penises from random (I'm hoping deceased) men having had much exposure AND access to dead people for the majority of his career. MANY QUESTIONS!
What did he do with them? Why did he take them? Was he searching in hopes of a penis replacement? ( I kid! ). No, more importantly; is it safe to just deem this clearly sick man a necrophiliac? I mean, it is the love muscle and when you think of penis, you automatically think of sex... NO? Well there went my mind.
They are in the process of charging this man with "Disturbing the peace of a corpse" and it carries max 2 years in the pen. I say why not a psychiatric ward instead?"